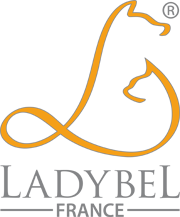 Professional cosmetics made in France

Unique French cosmetics LADYBEL® is a well-balanced, gentle complex for dog`s and cat`s coat maintenance that does not contain any harmful ingredients.

LADYBEL® cosmetics is designed by French scientists and is absolutely safe for the animals. All cosmetic line is unique for it`s natural ingredients, that are enriched with all necessary vitamins.
Winning into the ring and worthy recipe of how to make your pet the best in the ring- it is all about LADYBEL®!
At LADYBEL® each hair type has a specific range of care products, each coat color has a coat shampoo suitable, each hair or skin problem has a beneficial response.
LADYBEL® is the oldest French manufacturer of pet's cosmetics for professionals, we offer a wide range of grooming and hygiene products for all breeds of dogs, cats and small pets. Since 1981, countless cases of dogs and cats won the most prestigious beauty trophies, and many groomers won competitions in national and international exhibitions due to the exceptional properties of LADYBEL® products. At the forefront of innovation, LADYBEL® designs and develops, in its laboratory, performance products distributed worldwide to beautify the fur of our animal friends, respond special requests and treat each specific problem. LADYBEL® has chosen for you clear, modern and very trendy packaging.
LADYBEL® is committed to the protection of the planet: packagings are all recyclable and the brand uses natural and/or organic actives ( jojoba oil, real cade oil, sweet almond oil, wheat germ...).
All the LADYBEL® beauty products have an inimitable quality, you can find it in grooming's salon, breeders, veterinarians, pharmacists and in our e-shop www.birma.lv.

SIA Birma PETS is an official distributor of LADYBEL® in Latvia.